Well you've seen the before photos of our living room, dining room, and the suite (well, the before AND after of the suite...now it's rented out so we won't be able to show more photos!) and now it's time to show you the master bedroom!!
The master bedroom didn't win the house for us. It was a plain old room, with a mediocre closet (bigger than our apartment so that's a win!) and a decent window. It was hard to envision anything inspirational when we first viewed it because of the old owner's furniture....80s oriental vibes are not so my thing.
Wow, looking at these photos, I don't even recognize our current room!! So far we've done new floors, new walls and new white furniture and let me tell you, it has made a world of difference!
This is the room that we're the closest to finishing. We got a new bed, dresser and bed side tables but I'm on the hunt for a sweet mirror and plant or chair for a corner.
I'm all about peaceful vibes in the master bedroom. I'm not attracted to anything bright (big surprise there, ha!). Cool greys and lots of white. I want the master to be a room where I walk in and can take a big deep breath and then take a nice long nap. :)
Here's what's been inspiring me for the bedroom: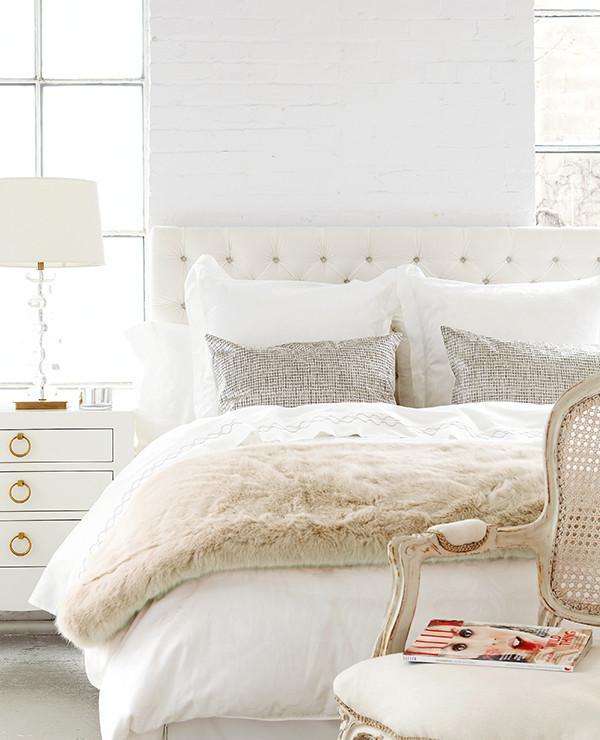 Ah there are so many elements from each one of those rooms that I'm in love with. Even though I'm all about peaceful vibes, I still want to add a touch of girly-ness like in the form of a girly chandelier or a cute fluffy stool like in that second photo. Ohhhhh I could dream about this room forever!!!
Which rooms are you loving??
xoxo,
s.s.♥︎.